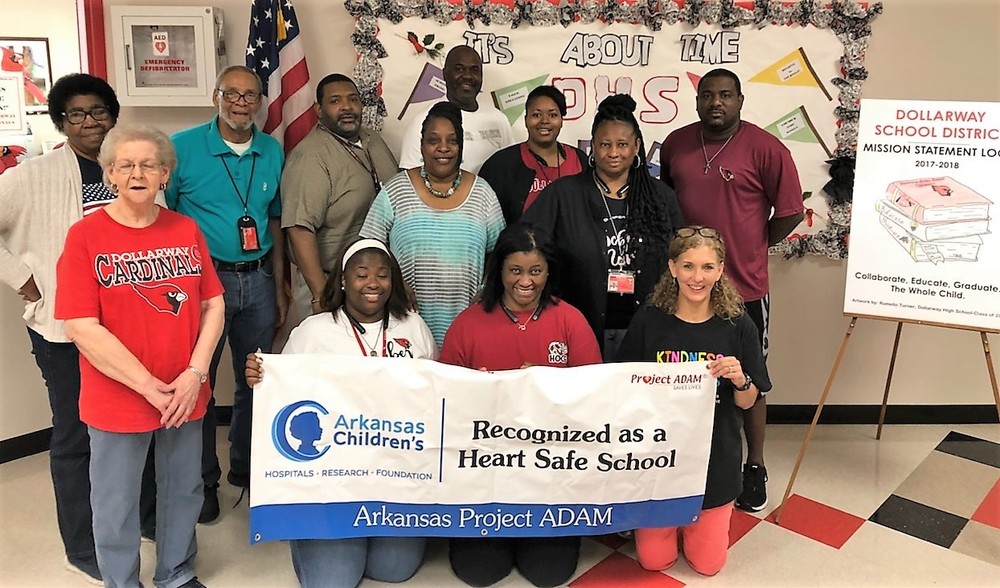 DHS IS A PROJECT ADAM-HEART SAFE SCHOOL!!!
Candice Jones
Tuesday, August 14, 2018
Staff in the Dollarway School District received Project Adam training at Dollarway High School which now designates it as a Project Adam school. As a result of the training and designation, Dollarway High School is deemed only the 3rd Adam's Heart Safe School in the state of Arkansas by Arkansas Children's Hospital. Project ADAM® (Automated Defibrillators in Adam's Memory) is a national, non-profit organization committed to saving lives through advocacy, education, preparedness and collaboration to prevent sudden cardiac death. Focused prevention training and education ensures schools and communities are not only equipped, but also trained in prevention of sudden cardiac death. For more information visit https://www.projectadam.com/ProjectADAM.
Pictured from L to R-Back Row: Essie Farris-Nurse's Assistant, Gregory Lancelin- School Health Coordinator, Willie Gulley-Dean of Students, Anthony Walker-Security,Janet James-Nurse's Assistant, Felicia Miller-School Nurse (R.N.), Martese Henry-Head Coach. Front Row: Brady McDaniel-Nurse's Assistant, Shirley Barnes-Administrative Assistant. Kneeling L to R: Renece Norman, Administrative Assistant, Mae Hawkins-Coleman-School Nurse (R.N.), Kristine Brooks-School Nurse (R.N.).