Dollarway Family--It's a great start to our best year yet. The bright & shining faces of our students and staff, ready for a fresh start to a new school year...to view a few more pictures click here:
https://photos.app.goo.gl/bPnEAjFC8kzkGRyL9
#iamdollarway #engagmentmattersar

Dollarway Parents--We are excited to announce our Kid's Stop Cafe. Students daily lunch menu now includes 3 delicious entrees to choose from!!! To view menus & download the Nutrislice app visit the website at
https://dollarwayschools.nutrislice.com/
. #IAMDOLLARWAY #ABSOLUTEBEST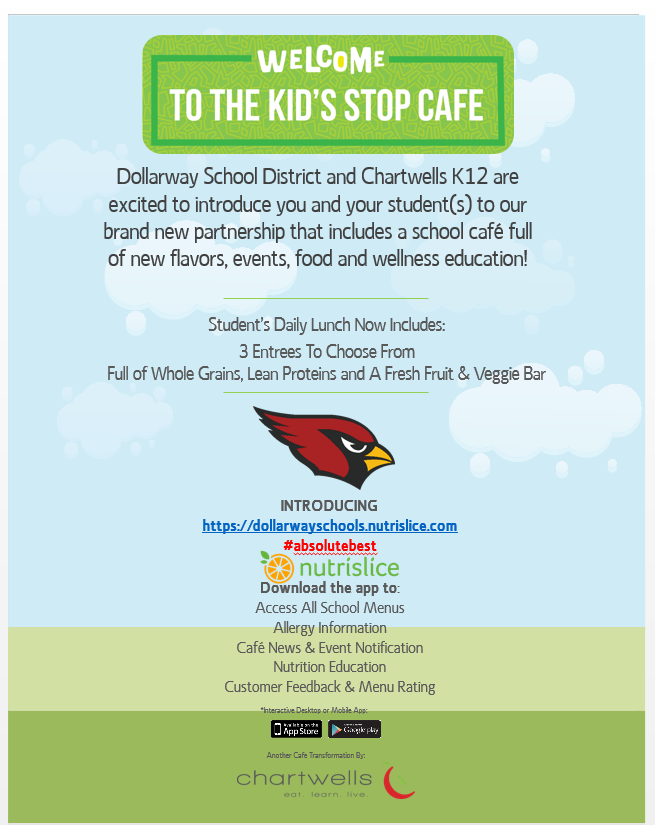 Dollarway Cardinals EAST program have partnered with a number of community barbershops and will be offering FREE haircuts to students on Monday, Aug. 12, from 10am-5pm on the campus of Robert Moorehead Middle School. Bring Dollarway ID, if ID can't be found, come anyway...we look forward to seeing you!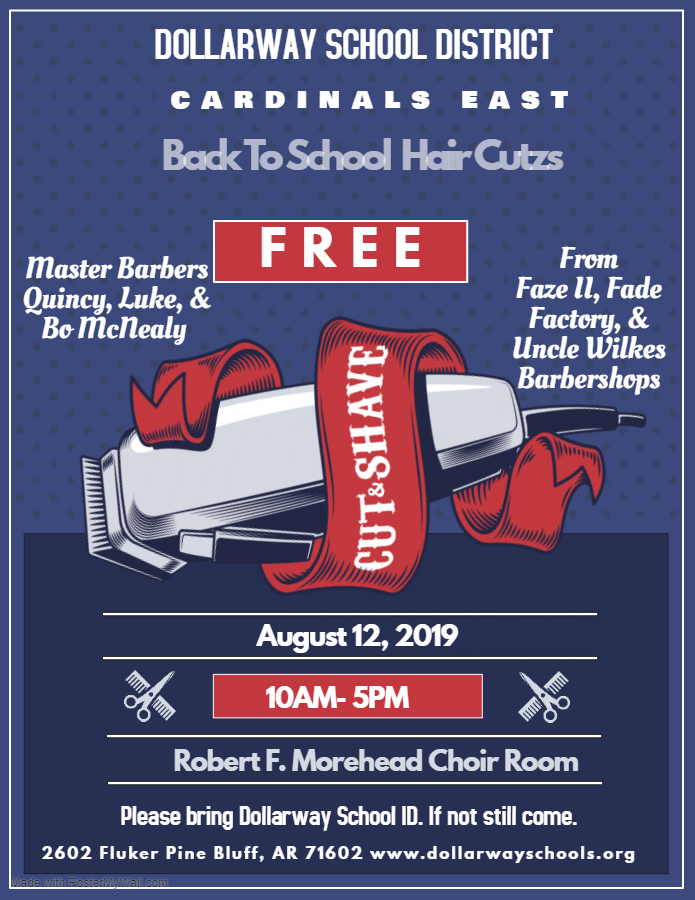 ATTN Dollarway Families--REMINDER: TAX FREE WEEKEND!!! Saturday, August 3, 2019, thru Sunday August 4, 2019, the State of Arkansas will hold its sales tax holiday, allowing shoppers the opportunity to purchase certain School Supplies, School Art Supplies, School Instructional Materials, and clothing free of state and local taxes. For info:
https://katv.com/news/local/2019-arkansas-sales-tax-holiday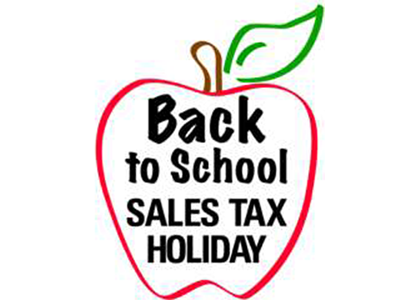 Dollarway High School Uniform 12th grade red shirt, 11th grade light gray shirt, 10th grade navy blue shirt and 9th grade hunter green shirt. Pants colors are black, navy and khaki.

SUPPORT CARDINAL ATHLETICS: T-Shirts $12 (Big D Logo or Small D Logo) Sizes: S-3X. To Place Your Order, Contact-- DOLLARWAY FOUNDATION MEMBERS Athletic Director, Mr. Alton Murphy 817-919-1182 Vonda Rogers 870-592-3046 Kanasha Carmickle 870-329-6059 Sandra Jackson 870-692-5318 Isadore Daniels 870-540-7533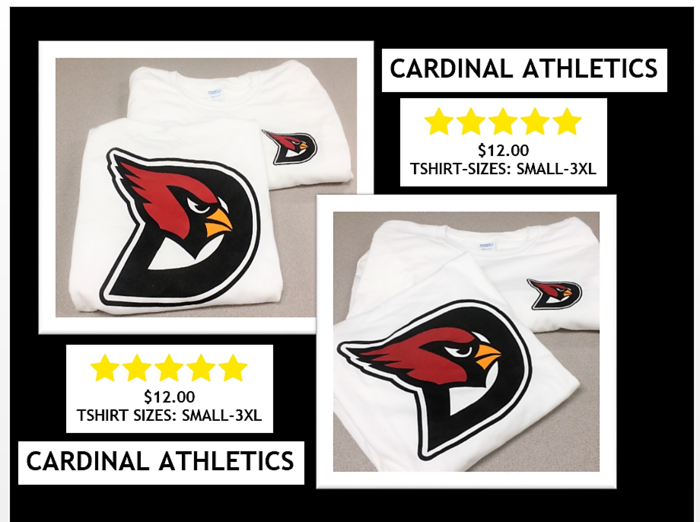 Happy Friday Dollarway Staff Family, Take a moment to view our FINAL CAMPUS Newsletter of the school year. Thanks for viewing! DOLLARWAY MATTERS: MAY/JUNE CAMPUS NEWSLETTER
https://spark.adobe.com/page/aUgwHvCXtWthu/
Happy Mother's Day Weekend!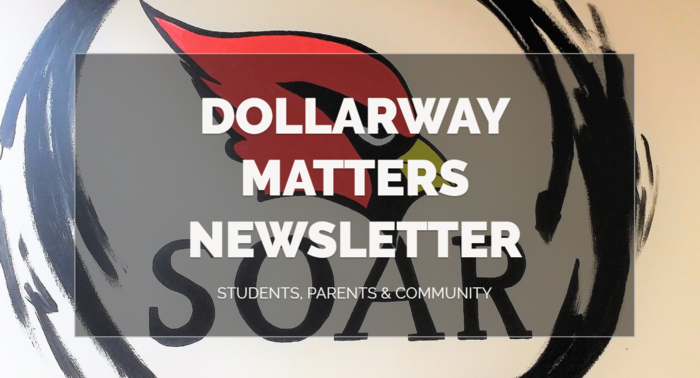 Adorned in their caps and gowns, the Dollarway High School Class of 2019 participated in "Senior Walk" day today. See pics in NEWS section:
www.dollarwayschools.org

Hello Dollarway Family--In case you missed it!!! Check out the super-amazing things your children are accomplishing in our district. Just go to the NEWS section at
www.dollarwayschools.org
. Don't forget to Like us on Facebook & Follow us on Twitter. Thanks!

Dollarway Parents & Students. A number of scholarships are still available! For more info see the NEWS section on our district's website,
www.dollarwayschools.org
.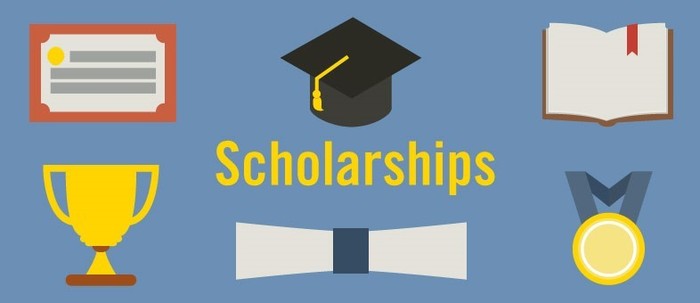 Hello Dollarway Family--CONGRATULATIONS! Once again, Dollarway High School has been recognized by the Office for Education Policy (OEP) at the University of Arkansas as a school that is Beating the Odds, because students demonstrated high growth on the ACT Aspire. Dollarway High received the following awards: Statewide "Beating the Odds" ELA Growth: High School Level;"Beating the Odds" Math Growth: High School Level (Central Region);"Beating the Odds" ELA Growth: High School Level (Central Region). We are so proud of our students and staff!!! More info can be found in the news section of
www.dollarwayschools.org
.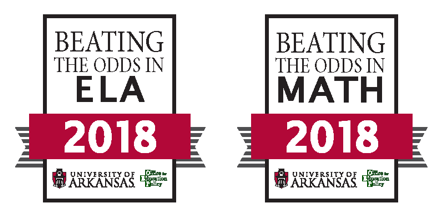 Dollarway Title I Parent & Family Engagement Plans which are compliant with Title I regulations, are approved and have been placed on-line for parents of all students, grades K-12 for the 2018-2019 school year. The District Title I Plan has been approved by Arkansas Department of Education and also available on-line. All plans can be accessed at
www.dollarwayschools.org
. Go to menu or school section and click on Parent & Family Engagement. If you would like to request that a copy be mailed to you contact Mrs. C. Jones at 870-727-9595.